Eltiste-Kaiser Web Site
---
Kaiser Family
Margaret Eva Wilhelmina
(Kaiser) Hazen
Sophie Hazen
Born - January 5,1915
Phillipsburg, Phillips County, Kansas
Baptized - 1915
Married -October 1, 1945
Stockton, Rooks County, Kansas
Died - April 18, 2006
Her Home, Stockton, Rooks County, Kansas
Buried - April 24, 2006
Stockton Cemetery, Stockton, Rooks County, Kansas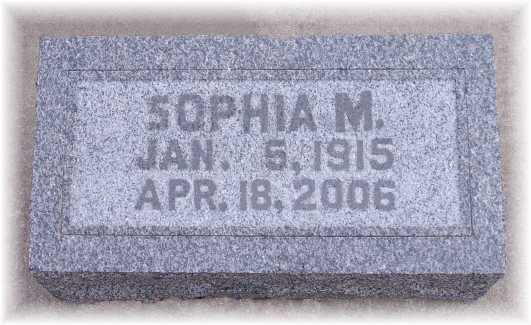 Sophia Hazen

Sophia (Kaiser) Hazen, 91, rural Stockton, died Tuesday, April 18, 2006, at her home.
She was born January 5, 1915, in Phillips County to Henry and Sophia (Eltiste) Kaiser. She was a graduate of Woodruff High School and Emporia State Teachers College.
She married Clarence A. "Bud" Hazen on October 1, 1945, in Stockton. He preceded her in death March 9, 1989.
She was Rooks County Welfare director and co-partner of C&M Hereford Farm.
Survivors include a son, Alton Hazen, Stockton; two daughters, Wilma Linderman, Alexandria, Virginia, and Anna Schremmer, Phillipsburg; a foster son, Michael Radar, Omaha, Nebraska; seven grandchildren; and a great-granddaughter.
Services will be at 2 p.m. Monday at United Methodist Church, Stockton, burial in Stockton Cemetery.
Visitation will be from 5 to 8 p.m. Saturday, from 9 a.m. to 8 p.m. Sunday, and from 9 to 10 a.m. Monday, all at Smith-Moore Overlease Funeral Home, 723 North First, Stockton, Kansas 67669, and from 11 a.m. until time of service Monday at the church.
Memorials are suggested to United Methodist Church and may be sent in care of the funeral home. Condolences may be sent to the family at

The Hays Daily News
Thursday – April 20, 2006

Husband -Clarence Alton Hazen
Born - November 12, 1915
Parents Home, Stockton, Kansas
Died - March 9, 1989
Father -Clarence A. Hazen
Born - May 8, 1876 -Iowa u Died - May 5, 1945
Mother - Marie A. (Sterling) Hazen
Born - June 20,1879 -Illinois u Died - July 23, 1979

Daughter - Wilma Maria (Hazen) Linderman
Born - November 11, 1946
Hays, Ellis County, Kansas
Son - Alton Hazen
Born - April 19, 1949
Phillipsburg, Phillips County, Kansas
Daughter - Anna (Hazen) Schrimmer
Born - October 3, 1952
Phillipsburg, Phillips County, Kansas

Father - Henry Christian Kaiser
Mother - Sophia Katherina (Eltiste) Kaiser

Music ~ How Great Thou Art



Family Indexes
Home Kaiser Eltiste Fink Rohrs
Family Thumbnail Photo Gallery Index
Last Up-Date 07/06/2010 07:20:31 PM