Eltiste-Kaiser Web Site
---
Kaiser Family
Wilhelmine Margareuta
(Kaiser) Look Sterrett
Wilma Sterrett
Born- July 16, 1922
Phillipsburg, Phillips County, Kansas
Baptized -1922
Confirmed - 1936
Stuttgart, Phillips County, Kansas
Married - April 12, 1946
Methodist Church
Stockton, Rooks County, Kansas
Died -January 5, 2003
Gove County Medical Center, Quinter, Kansas
Buried - January 9, 2002
Stockton City Cemetery
Stockton, Rooks County, Kansas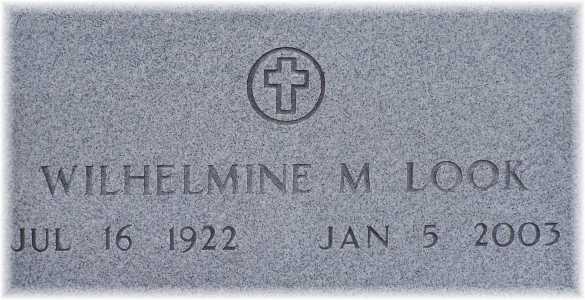 1 st Husband - Lawrence Harley Look
Born - April 20, 1919
Stockton, Rooks County, Kansas
Died - December 13, 1978
Wichita, Sedgwick County, Kansas
Buried - Stockton City Cemetery
Stockton, Rooks County, Kansas
Father - Hiram B. Look
Born - April 11, 1884 - Illinois u Died - October 1964 - Kansas
Mother - Cloie Stella (Jacobs) Look
Born - June1890 -Kansas

Daughter - Kathyleen Sue (Look) Sammons
Born - December 26, 1949
Married - July 19, 1968
Stockton, Rooks County, Kansas
Died - September 30, 1988
Husband - Russell Sammons
Son - Lawrence Dean Look
Born - May 17, 1951
Married - May 26, 1972
Wife - Linda N. (Poore) Look

2 nd Husband - Clarence John Sterrett
Born - August 18,1917
Gove County, Kansas
1st Wife -Vera Marie (Phelps) Sterrett
Born - February 19, 1920
Married- Vera Phelps - June 16, 1939
Died - November 15, 1986
2nd Wife - Wilma (Kaiser) Look Sterrett
Married - July 2 1988
Methodist Church, Hays, Kansas
Died - Friday, January 26, 2007
Quinter, Gove County, Kansas
Buried - Tuesday, January 30, 2007
Baker Township Cemetery
Quinter, Gove County, Kansas
Father - Roy B. Sterrett
Born - December 5,1886 - Kansas
Married -1909
Died - November 1967
Mother - Elsie Frederica (Feiler) Sterrett
Born - September1887 - Kansas
Died -1965

John "Clarence" Sterrett

QUINTER -- John "Clarence" Sterrett, 89, Quinter, died Friday,
January 26, 2007, at the Quinter Long Term Care Center.
Mr. Sterrett was born Aug. 18, 1917, in rural Gove County.
He graduated from Quinter High School
He farmed and ran the bus for the Quinter schools for many years.
He married, Vera Phelps, June 16, 1939 at his home
He was preceded in death by his first wife, Vera, November 1986;
He married, Wilhelmine Kaiser Look July 2, 1988.
He was preceded in death by his second wife, Wilhelmine, in January 2003; and a daughter, Kathy Sammons.
Survivors include two sons, Dick Sterrett and Lawrence Look, both of Quinter; three daughters, Carolyn More of Shawnee, Deanna Roberts of Quinter and Barbara Wiechman of Valley Center; a sister, Pearl Johnston of Holton; 13 grandchildren; and 12 great-grandchildren.
The funeral will be at 2:30 p.m. Tuesday at Church of the Brethren. Burial will be in Baker Township Cemetery, Quinter.
Memorials may be made to Quinter Volunteer Ambulance Service, Gove County Long Term Care or Reformed Presbyterian Church, in care of Schmitt Funeral Home, 901 S. Main, Quinter 67752.
Visitation will be from 6 to 8 p.m. Monday at the funeral home.

Salina Journal
Sunday - January 28, 2007


Father - Henry Christian Kaiser
Mother - Sophia Katherina (Eltiste) Kaiser



Family Indexes
Home Eltiste Kaiser Rohrs Fink
Family Thumbnail Photo Gallery Index
Last Up-Date 03/19/2008 06:15:37 PM