Eltiste-Kaiser Web Site
---
Rohrs Family
Liberty Freemont Grant
Born - Monday, February 23, 1857
Jefferson County, Wisconsin
Residence - Wednesday, August 1, 1860
Hebron, Jefferson County, Wisconsin
Married - Sunday, December 17, 1882
Fall City, Richardson County, Nebraska
Residence - Thursday, June 4, 1885
Bedford Precinct, Nemaha County, Nebraska
Residence - Tuesday, June 5, 1900
Bedford Precinct, Nemaha County, Nebraska
Occupation- Farmer
Residence - Wednesday, January 7, 1920
2118 "P" Street
Auburn, Nemaha County, Nebraska
Died - Thursday, October 14, 1948
Los Angles County, California
Buried - Howe Cemetery
Nemaha County, Nebraska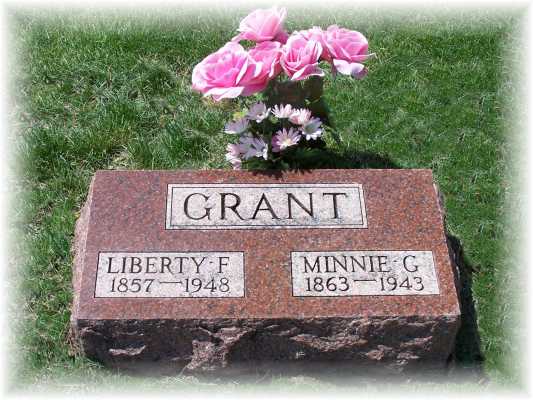 Golden Wedding Was Celebrated
Mr. and Mrs. L. F. Grant
Wed Fifty Years
Family Gathering in Honor of Happy Event Held at Home in Auburn Tuesday
Years of Wedded Life Spent in This County

Mr. and Mrs. L. F. Grant celebrated their golden wedding
anniversary at their home, 2118 "P" Street, Wednesday.
The occasion was made very happy for this bride and groom
of half century ago, by a surprise which had been planned, by their children and other relatives. Beautiful bouquets were sent by
friends as tokens of love and esteem and as mediums of which congratulations might be expressed. Family dinner was
served at noon, dining room decorations of yellow and
white reflecting the sentiment of the occasion. In the center
of the table dolls, representing miniature bride and groom,
stood beneath an arch of ferns and yellow flowers with
pathway of flowers of the same hue leading into the arch. Two sons, Frank C. Grant and wife of Lincoln, and Ralph J. Grant
and wife of Falls City, were present to help their parents
celebrate this important anniversary, the observance of
which so few are privileged to enjoy. The third son
H. R. Grant of Baker Oregon was unable to be present.
Relative of Mr. Grant present included his sister
Mrs. Henry Miner and husband, Mr. and Mrs. Ralph Hawkins,
Mr. and Mrs. Everett Bassinger and son, Bobbie.
Four generations were present represented in this group.
Mrs. Hawkins is a daughter of Mr. and Mrs. Miner;
Mrs. Bassinger is a daughter of Mr. and Mrs. Hawkins
and their son Bobbie, completes the four generations.
Miss Blanch Dye and Miss Jessie Dye. nieces were
also among the guests.
Brothers of Mrs. Grant included in this family
gathering were W. O. Minor and wife, and Frank Minor
and wife of Tecumseh, and Charles Minor and wife of Graf.
Other relatives present were Mr. and Mrs. John Stokes and
Dr. and Mrs. E. M. Tyler Mrs. Stokes is Mrs. Grant's
only living aunt and Dr. and Mrs. E. M. Tyler are parents of
Mrs. Frank C Grant.
Mr. and Mrs. L. F. Grant were married at Falls City,
December 6, 1882, Judge J. R. Wilhite, one of the
pioneer county judges of Richardson County. Before her
Marriage Mrs. Grant was Miss Minnie Minor.
Mr. Grant first came to Nebraska in 1875, but because
of grasshoppers and drought, returned to his home in
Jefferson County, Wisconsin. When conditions were more
favorable he returned to Nebraska and after their marriage
the bride and groom went to live on the farm now occupied
by Frank Aue southeast of Auburn. They afterward moved to
Johnson county and in 1887 moved to Chase county where
they lived nine years. In 1896 they returned to Nemaha county
and resumed life on the farm, retiring in the spring
of 1915 to move to Auburn.
Mr. and Mr. Grant have had an active part in community life.
During their long period of residence they have enjoyed
the respect of all those with whom they have had associations
and there are many who join in congratulations and good wishes
and who trust that they may long be spared to enjoy in peace
and comfort the gift in the form of a beautiful chair given them by their children on the occasion of their golden wedding anniversary.
Nemaha County Herald
Thursday
December 8, 1932

Auburn Man Hurt When Car Skidded

L. F. Grant was painfully but not seriously injured in an automobile
accident which occurred near Milford last Friday. Mr. Grant had
disposes of a load of grapes in towns in that section and was on his
way home when the mishap occurred. The car skidded in loose
gravel and turned partly over in a shallow ditch. Mr. Grant was
thrown from the seat with such force as to cause numerous cuts and
severe bruises but no bones were broken. He was taken to the office
of a doctor at Milford where first aid was given. His son, Frank C. Grant
of Lincoln was notified and went to Milford and arranged to have his
father brought to his home in an ambulance. Mr. and Mrs. Ralph Grant
also came to Auburn upon being notified of the accident. Mr. Grant
is now recovering nicely and no permanent bad effects are expected.
Nemaha County Herald
Thursday
September 1, 1932
OBITUARY
~ Liberty F. Grant ~
LIBERTY F. GRANT was the last of seven children of Mr. and Mrs. Willard Grant. Himself a pioneer, he was the son of pioneers. His father went from New York to Wisconsin as a young man, one of the first seven settlers in Jefferson County. They cleared space in the forest and built their own log cabins. His father was a farmer, but in addition served as a teacher in the public schools, register of deeds and state legislator.
Mr. Grant was born February 23, 1857. He came of Nebraska at the age of 16. At that time the Missouri Pacific railroad was being constructed from Omaha to Kansas City. In December 1882, he was married to Miss Minnie Miner, of near Tecumseh. They farmed a few years in Nemaha and Johnson counties, and then homesteaded in Chase County, Nebraska, where they remained for 10 years.
While there he served as chairman of distribution of aid to the needy during the drought and depression of the early 90's. Forced by the drought to leave, be brought his family back to eastern Nebraska. He farmed successively on a farm near Bracken, a 320 acre farm on the Muddy, and finally purchased a farm northeast of Howe adjoining the Church Howe land. He was an expert mechanic and carpenter. In both western and eastern Nebraska he managed threshing and corn shelling crews, thus becoming acquainted with the farmers all over these territories. And there are barns and other buildings scattered over these counties which he built.
In 1912, he retired to Auburn, where he purchased acreage and planted an orchard and vineyard. His grapes and other fruits were widely recognized for their superiority. His love of the work and his sturdy qualities were exemplified by the fact that he sprayed his orchard and pruned his trees and vines till he was 86 years of age.
Mr. and Mrs. Grant celebrated their 60th wedding anniversary in December 1942, with a family dinner. Mr. Grant spent the next two years with a son in Lincoln, and the three years since with another son in California. While there, he made a trip back to Nebraska for a last visit with friends and relatives, flying both ways. He declared that that was the only way to travel. His last days were not filled with suffering, as he was never really ill. He just gradually grew weaker, and finally went to sleep one night and did not awaken.
He is survived by three sons, H. R., of Baker, Oregon, Frank C., of Lincoln and Ralph J. of Inglewood, California; four grandchildren and three great- grandchildren.
Mr. Grant loved and participated in sports and games. He loved music, and without much training was a skillful violinist. He loved the Bible and his country's flag and all they stand for. He never talked very long to anyone with out referring to "The Good Book" and "Old Glory." His most outstanding characteristics were his industry, his patience, his adaptability to difficult circumstances, and his honesty. The last named quality was no doubt inspired by the words of his father to him when he was leaving home at 16. He said; "Liberty, there is just one thing I want to say to you for you to remember – "Pay your honest debts, and wear out your old shoes."
Funeral services were held Sunday, October 14th at the Casey and Timm funeral home with Rev. H. D. Keefer officiating. Mrs. Esther Wells sang, with C. E. Hohensee playing the accompaniment.
Pallbearers were John Zacharias, Ernest Fellers, Paul Milam, Ralph Hawkins, Clarence Coeur and Fred Rothert.
Interment in Howe cemetery.
Nemaha County Herald
Thursday
October 21, 1948

Wife - Minnie G. (Minor) Grant
Born - Sunday, March 15,1863
Ipava, Fulton County, Illinois
Died - Wednesday, March 24, 1943
Her Home
Auburn, Nemaha County, Nebraska
Buried - Thursday, March 25, 1943
Howe Cemetery
Nemaha County, Nebraska
Minnie's Father - Samuel Marion Minor
Born - November 5, 1831
Blackville, Monongahela County, Virginia
Married - August 7, 1856 - Fulton County, Illinois
Died - March 18, 1915 - Johnson County, Nebraska
Buried - March 20, 1915 - Tecumseh Cemetery
Tecumseh, Johnson, County, Nebraska
Block-63 Lot-1
Minnie's Mother - Mary Jane (Holmes) Minor
Born -July 13, 18389 - Fulton County, Illinois
Died - July 30, 1898 - Johnson County, Nebraska
Buried - July 31, 1898 - Tecumseh Cemetery
Tecumseh, Johnson, County, Nebraska
Block-63 Lot-1

NEMAHA COUNTY HERALD
THURSDAY
MARCH 25, 1943
Mrs. L. F. Grant
Died Wednesday
Mrs. L. F. Grant who celebrated her 80th birth anniversary, March 15th, quietly passed away at their home on South "P" Street at about 3:30 Wednesday morning, following a period of declining health. Her passing comes as a distinct shock to her great host of friends.
Minnie Miner was born at Ipava, Illinois, March 15th, 1863, only daughter of a family of seven children. In 1872 her father brought his family his family to Nebraska, making the trip in a covered wagon, in which they endured the hardships known to those stalwart and hardy pioneers of that era. They settled on a farm about five miles south of Auburn. They later moved to Johnson County where they resided for a time.
She was united in marriage to Liberty F. Grant, December 14, 1882, and with Mr. Grant had the pleasure of celebrating their 60th wedding anniversary this past December. Following their marriage, Mr. and Mrs. Grant moved to a farm southwest of Howe, where they resided for a time. They later moved to Johnson County, staying there for two years. The urge of the western section of the state called them and they took a homestead in Chase county in 1896, where they lived for some little time before returning to their former home county, that of Nemaha. To this happy union there were born three sons, all of whom survive their mother.
Mrs. Grant was a member of the Avenue Methodist Church where for years; she took an active part in the affairs of this group. Her pleasures and joys centered around her home life, and doing those things for others that she could so capably do.
Her husband, Liberty F. Grant, and three sons, H. R. Grant, Baker, Oregon, Frank C. Grant, Lincoln, and Ralph J. Grant, St. Paul, Minnesota, survive her. Two sons, Frank C. and Ralph J. Grant, were able to be present for the funeral rites of their mother.
Funeral services will be held today (Thursday) at the Casey and Timm funeral home at 2 p.m., with Rev. M. R. Willis, Franklin, former pastor of the Avenue Methodist church in this city, conducting the services. Interment will be made at the Howe cemetery.

Public Sale
Tuesday, February 27, 1912

Son - Hassie Raymond Grant
Born - Monday, September 17, 1883
Nemaha County, Nebraska
Married - Monday, August 9, 1926
Spink, Union County, South Dakota
Residence - April 12, 1930
Baker City, Baker County, Oregon
Occupation - Musical Director - Public School
Died - October 9, 1966
Baker City, Baker County, Oregon
Wife - Jessie Claire (Simpson) Grant
Born - May 13, 1884 - Iowa
Residence - April 12, 1930
Baker City, Baker County, Oregon ۩ Occupation - Teacher
Died - October 19, 1964 ۩ Baker County, Oregon
Son - Frank Clarence Grant
Born - July 22, 1885
Nemaha County, Nebraska
Died - October 1964 - California
Wife - Gertrude (Tyler) Grant
Born - February1887 - Nebraska
Parents - Eugene M, & Florence Tyler

Son - Ralph James Grant
Born - Tuesday, January10, 1893
Nemaha County, Nebraska
Died - Wednesday, April 11, 1979
San Bernardino, California
Wife - Ida Grant
Born -1893 - Pennsylvania

Sister - Mary E. (Grant) Dye
Born - Wednesday, March 22, 1848
Jefferson County, Wisconsin
Sister - Ellen G. (Grant) Miner
Born - Sunday, April 7, 1850
Jefferson County, Wisconsin
Brother - Samuel LaMonte Grant
Born - June 1852
Jefferson County, Wisconsin
Sister - Martha V. (Grant) Palmer
Born - December 1854
Jefferson County, Wisconsin
Brother - Willard James Grant
Born - September 1860
Jefferson County, Wisconsin


Father - Willard Grant
Mother - Sarah (Dye) Grant

Family Indexes
Home Rohrs Eltiste Kaiser Fink
Family Thumbnail Photo Gallery Index
Last Up-Date 01/15/2012 09:41:48 AM