Eltiste-Kaiser Web Site
---
Torbeck Family
Reiner Hillerichs Torbeck
Born - Friday, January 11, 1850
Lehr, Ostfriesland, Germany
Immigrated -1864
Married - Wednesday, March 7, 1877
Died - Thursday, May 7, 1925
Johnson, Nemaha County, Nebraska
Burial - Sunday, May 10, 1925
Johnson Cemetery
Johnson, Nemaha County, Nebraska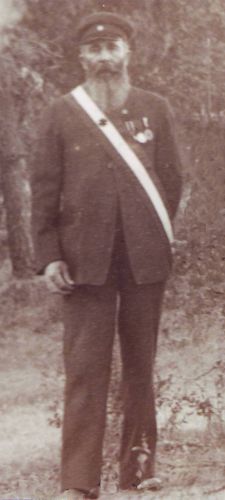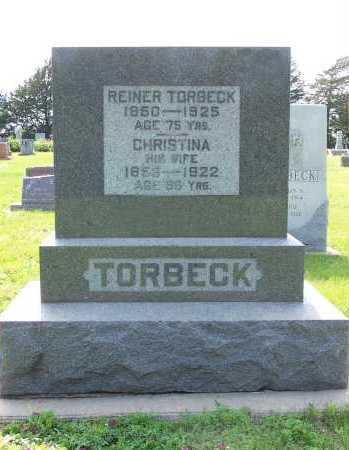 REINER TORBECK

Reiner Hillricks Torbeck was born at Holtland Kreis-Leer in Ostfriedsland, Germany, January 11, 1850. He was the third child of three sons born to Friedrick and Moderina Torbeck. John his older brother married Augusta Driehaus and came to Nebraska in 1870. They had a hardware store in Tecumseh, Nebraska.
Wiert the second child and Reiner enlisted in the German Army in 1870 when France declared war on Germany. Reiner became an officer and won several medals. Wiert was killed during the war. After the war was over he was the only one left of his immediate family so he decided to come to America to join his brother. The first winter after his arrival in Nebraska he worked as a waiter and general helper at the Peru College. At this time he was trying to learn the new language which he mastered in a short time. He received a very good education in his youth from Peru. Reiner went to work in the Stone Church vicinity in Benton Precinct. He was a carpenter, painter and also helped on the farm. It was here that he met Christena Dirks (daughter of John Dirks) born February 29, 1856, at Petersburg, Illinois. She became his wife March 7, 1877. They purchased 220 acres about a mile southwest of the Stone Church. They were blessed with eleven children;
Theta, (Mrs. Ernest Marquart), Hilka (Mrs. Alka Malpart), Christina (Mrs. John Schleufer), John, Fred, Augusta (Mrs. Henry Scheufer), Herman, Emma, (Mrs. Herman Oestmann), Dick, Dora (Mrs. Otto Harms),
and Anna, (Mrs. Fred Kienker).
In 1909 they purchased a home in Johnson. Christena died in 1922 and Reiner in 1925. Both are laid to rest in the Johnson Cemetery.
Emma Torbeck born April 11, 1891, Married Herman Godfrey Oestmann, a son of Ernest Oestmann born June 4, 1889. They were married February 4, 1913. Their first home was located 1/2 mile west of Johnson. Ernestine (Mrs. Adolph Lunzmann), Verna (Mrs. Vern Moody), and Eileen (Mrs. Harold Coulter) were born there. In 1919 they moved to the Ernest H. F. D. Oestmann farm near Rohrs. Two more children were born there, Harold and Orvin. Herman, although an excellent farmer, loved machinery as well as horses. He was one of the first to own a combine in the county. He also was one of the earliest Hybrid Seed Corn producers working with early
N C + Hybrids. Herman died March 19, 1947. Emma moved to Johnson in 1966 having raised and educated her family. She passed away April 11, 1983, and was laid to rest beside her husband in the St. Matthews Cemetery just west of Johnson.
This information was collected from the history written by Anna Torbeck Kienker about her father and mother in the Torbeck Family book. The information on Herman and Emma Torbeck Oestmann, my father and mother, is my own.
Written by Verna C. Oestmann (Mrs. Vern Moody)



REINER TORBECK

The seating capacity of the St. Matthew's Lutheran church was far too inadequate to accommodate the friends who gathered in Johnson last Sunday afternoon, May 10th, to honor Mr. Reiner Torbeck who passed away Thursday morning, May 7th, 1925, at 8:40 o'clock, aged 75 years, 3 months and 26 days.
During the years spent in this country he made countless friends by his upright manner of living. He never spoke evil of anyone, he detested falsehoods. His time and care were given his family and home, where his thoughts were centered.
Reverend William Harder, who conducted the funeral services, gave praise to the departed one as a good citizen, a loving father and a Christian.
OBITUARY

Reiner Hillerichs Torbeck was born January 11th, 1850, at Lehr, Ostfriesland Germany. His early life was spent in the fatherland where he was baptized and confirmed in the Lutheran faith. He served his country during the Franco-Prussian war, returning home at the close of the war with an honorable record. Shortly after the war he came to the United States to join his brother John who had immigrated to this country and located near Tecumseh. March 7th, 1877, the deceased was united in marriage with Miss Christina Dirks and they established their home on a farm near the Stone church. Four sons and seven daughters were born to this union. Besides farming, Mr. Torbeck did considerable carpenter work. He was a most successful farmer and carpenter and he used his practicability to a good advantage.
In 1909 the family removed from their beautiful farm home to an equally beautiful home in Johnson, just north of the city park. Here Mrs. Torbeck passed away March 4th, 1922, after an extended illness. In her declining days she was tenderly cared for by her husband and children. Before his wife's demise, Mr. Torbeck suffered from heart trouble. A complication of heart trouble and Bright's disease
caused months of pain and suffering. The children were ever faithful to their father during his illness. At Easter time when his life was despaired of, all of them came home to be at his service. The members of the family who mourn his death are: Mrs. Ernest (Theta) Marquart of Byron, Nebraska, Mrs. Alka (Hilka) Malpert of Nora, Nebraska, Mrs. John (Christina) Schleufer, Wauneta, Nebraska, John Torbeck of Byron, Nebraska, Fred Torbeck of Auburn, Nebraska, Mrs. John (Augusta) Schleufer of Nora, Nebraska, Herman Torbeck of Byron, Nebraska,
Mrs. Herman (Emma) Oestmann of Auburn, Nebraska, Dietrich Torbeck of Bryon, Nebraska, Mrs. Otto (Dora) Harms of Byron, Nebraska, Mrs. Fred (Anna) Kienker Jr., of Johnson, Nebraska, 46 grandchildren and many friends.
Shortly after his removal to Johnson he became a member of St. Matthew's Lutheran church, where his funeral was conducted Sunday afternoon, following a short service at the home. A double quartet sang at the home and at church.
His four sons and two sons-in-law residing here, Fred Kienker and Herman Oestmann, were pall bearers. Interment in the Johnson cemetery by the side of his beloved wife.

CARD OF THANKS
We sincerely thank our neighbors and friends for the beautiful floral offerings, we deeply appreciate their kindness and expressions of sympathy and the many loving efforts rendered to lighten our sorrow
in the loss of our dear father,
Reiner Torbeck.
The Children

The Johnson News
Thursday
May 14, 1925


Wife - Christena (Dirks) Torbeck
Born - February 29, 1856
Petersburg, Menard County, Illinois
Died - March 24, 1922
Johnson, Nemaha County, Nebraska
Burial - Wednesday, March 28, 1922
Johnson Cemetery
Johnson, Nemaha County, Nebraska

Daughter - Theta (Torbeck) Marquart
Born - March 19, 1878
Daughter - Hilka Johanna (Torbeck) Malpert
Born - March 3, 1880
Daughter -Christena (Torbeck) Schleufer
Born - January 16, 1882 - Nebraska
Son - John W. Torbeck
Born - March 28, 1884

Son - Fred W. Torbeck
Born - March 14, 1886
Daughter - Augusta (Torbeck) Schleufer
Born - December 6, 1887
Son - Herman Heinrich Torbeck
Born - November 25, 1889

Daughter - Emma (Torbeck) Oestmann
Born - April 11, 1892

Son - Dietrich "Dick" Torbeck
Born - January 21, 1895
Daughter - Dora (Torbeck) Harms
Born - December 17, 1896
Daughter - Anna (Torbeck) Kienker
Born - September 14, 1900

Brother - John Torbeck
Born -1840 - Germany
Wife - Augusta (Driehaus) Torbeck
Born -1840 - Germany
Brother - Wiert Torbeck

Father - Freidrich Torbeck
Born - 1824 - Germany
Mother - Moderina Torbeck
Born - 1828 - Germany


Family Indexes
Home Eltiste Kaiser Fink Rohrs
Thumbnail Family Photo Gallery Index
Last Up-Date 01/15/2012 09:46:44 AM