Eltiste-Kaiser Web Site
---
Eltiste Family
Ernest Heinrich August Eltiste

Ernest Eltiste
Born - October 30, 1910
Farm Northeast of Phillipsburg, Phillips County, Kansas
Baptized - November 13, 1910
Confirmed - June 1, 1924
Married - October 13, 1937
Emmanuel Evangelical Lutheran Church
Stuttgart, Phillips County, Kansas
Died - January 8, 1984
Phillips County Hospital, Phillipsburg, Kansas
Buried - Emmanuel Lutheran Cemetery
Stuttgart, Phillips County, Kansas



Ernest Eltiste

Ernest Henry August Eltiste, son of Fred and Margaretha Grau Eltiste was born on a farm northwest of Phillipsburg, Kansas, October 30, 1910, and departed this life at the Phillips County Hospital, Phillipsburg, Kansas, January 8, 1984, having attained the age
of 73 years, 2 months and 9 days.
Ernest grew to manhood in the Stuttgart-Phillipsburg area and farmed the family farm where he was born until his retirement. Ill health finally caused him to become a resident of the Phillips County Hospital in Phillipsburg.
On November 13, 1910, Ernest was baptized into the Christian faith at the Emmanuel Lutheran Church, Stuttgart, Kansas and he was confirmed in the Lutheran faith on June 1, 1924, at the Emmanuel Lutheran Church. He was a member of the Emmanuel Lutheran Church of Stuttgart all his life.
Ernest was united in marriage with Freda Merklein on October 13, 1937, at the Emmanuel Lutheran Church, Stuttgart, Kansas. To this union three sons, Loren, Melvin and Dale were born.
Ernest was preceded in death by his parents and by a stillborn sister.
He leaves to mourn his passing his wife, Freda of the home at rural Phillipsburg; three sons and their wives: Loren and his wife, Carol, Thousand Oaks, California, Melvin and his wife Patricia, Los Angeles, California and Dale and his wife Debbie, Leawood, Kansas. He leaves five grandchildren: Christopher Eltiste, Chatsworth, California; Kacey and Melissa Eltiste, Los Angeles, California; and Torey and Brandon Eltiste, Thousand Oaks, California. He also leaves many cousins, a large number of other relatives, and many, many friends.
Memorial Services were held at the Emmanuel Lutheran Church, Stuttgart, Kansas, on Wednesday, January 11, with the Rev. Duane Levin officiating. Hymns were sung by the congregation with Mrs. Marene Levin as organist.
Casket bearers were Melvin Hesterman, Loren Grau, Lee Vogel, Duane Merklein, Eldon Miller and Robert Merklein.
Interment was in the Emmanuel Lutheran Church Cemetery, Stuttgart, to await the resurrection.
CARD OF THANKS
We extend our sincere appreciation for the many kindnesses shown us at the time of the loss of our loved one. The cards, flowers, memorial contributions, food brought in and other thoughtful deeds brought much comfort and will always be remembered.
The Family of Ernest Eltiste

The Phillips County Review
Thursday
January 19. 1984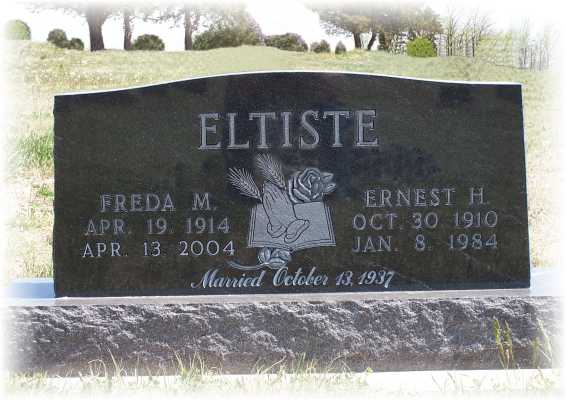 Wife - Freda Alma Martha (Merklein) Eltiste
Born - April 19, 1914
Baptized - 1914
Emmanuel Evangelical Lutheran Church
Stuttgart, Phillips County, Kansas
Father - Heinrich L. Merklein
Born - April 4, 1870 ~ Hanover Kansas
Died - November 27,1946 ~ Mound Township, Phillips County, Kansas
Mother - Kathrina Madelena (Krafft) Merklein
Born - May 13, 1878 ~ Waldmannshofen, Germany
Died - October 26,1967 ~ Phillipsburg, Kansas


Son - Loren Martin Eltiste

Born - June 13, 1940

Son - Melvin Leroy Eltiste
Born - August 11, 1944
Son - Dale Allen Eltiste
Born - February 24, 1950

Sister - Infant Death
Born -July 2, 1907 ۩ Died -July 2, 1907
Buried - Emmanuel Lutheran Cemetery
Stuttgart, Phillips County, Kansas

Father - Frederick Henry Eltiste
Mother - Sophie Margaretha (Grau) Eltiste


Family Indexes
Home Eltiste Kaiser Fink Rohrs
Family Thumbnail Photo Gallery Index
Last Up-Date 11/07/2010 02:11:17 PM