Eltiste-Kaiser Web Site
---
Eltiste Family
Christian Gottlieb Eltiste
Born - Thursday, September 29, 1881
Otoe County, Nebraska
Baptized - Sunday, November 27, 1881
Saint Paul's Lutheran Church, Nemaha County, Nebraska
(Hickory Grove Lutheran Church)
Nemaha County, Nebraska
Sponsors - Christian Eltiste & Matthäus Muller
Confirmed - Tuesday, April 21, 1895
Emmanuel Lutheran Church
Stuttgart, Phillips County, Kansas
Died - Tuesday, November 30, 1976
Phillips County Hospital
Phillipsburg, Phillips County, Kansas
Buried - Thursday, December 2, 1976
Emmanuel Lutheran Cemetery
Stuttgart, Phillips County, Kansas


Obituary Eltiste

Christ Gottlieb Eltiste, son of August and Katharina Hahn Eltiste, was born September 29, 1881, in Nemaha County Nebraska, and departed this life at the Phillips County Hospital, Phillipsburg, Kansas on November 30, 1976, having attained the age of 95 years, 2 months and 1 day.
On November 27, 1881, Christ received the Sacrament of Holy Baptism at Johnson, Nebraska. He was confirmed in the Lutheran Church, Stuttgart, Kansas, on April 21, 1895. Christ was a faithful member of the Emmanuel Lutheran Congregation at Stuttgart at the time of his death.
When he was quite young, Christ came to Kansas with his parents. He grew to manhood and lived and farmed in the Stuttgart vicinity. Christ was preceded in death by two sisters and one brother. He leaves several nieces and nephews and other relatives and friends.
Funeral services were held at the Emmanuel Lutheran Church, Stuttgart, on Thursday, December 2, 1976, with Pastor Duane Levin officiating. Hymns were sung by the congregation with Mrs. Marene Levin as organist.
Casket bearers were Loren Grau, Arlin Bohl, Erwin Kaiser, Fred Flanigan, Norman Kellerman and Walter Anschutz.
Burial was in the Emmanuel Lutheran Church Cemetery, Stuttgart, to await the resurrection.

CARD OF THANKS
Our most sincere thanks to everyone who expressed sympathy at the time of the loss of our loved one with cards, flowers, food and other acts of kindness. Your thoughtfulness will never be forgotten.
The Family of Christ Eltiste

Phillips County Review
Thursday
December 9, 1976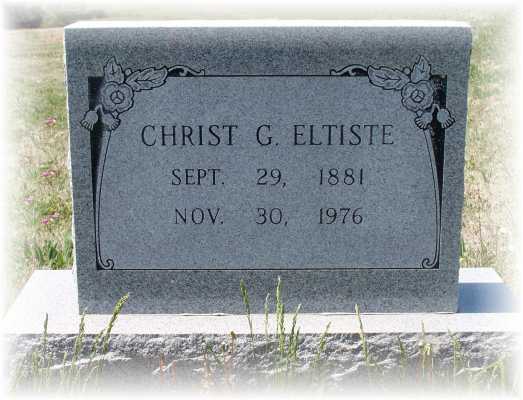 Brother - Frederick Henry Eltiste
Born - February 3, 1880
Sister - Christina Katharina (Eltiste) Mueller
Born - December 6, 1883
Sister - Emma Katherina (Eltiste) Vogel
Born - March 2, 1887
Foster Brother - Harold Edwin Benjamin
Born - July 2, 1902

Father - August Christian Eltiste
Mother - Katharina (Hahn) Eltiste


Family Indexes
Home Eltiste Kaiser Fink Rohrs
Family Thumbnail Photo Gallery Index
Last Up-Date 11/06/2014 06:37:07 AM