Eltiste-Kaiser Web Site
---
Eltiste Family
Frederick Henry Eltiste
Fred Eltiste
Born - Friday, February 13, 1880
Osage, Otoe County, Nebraska
Baptized - Sunday, May 16, 1880
Evangelical Lutheran Church
Nebraska City, Otoe County, Nebraska
Married - Wednesday, May 10, 1905
Stuttgart, Phillips County, Kansas
Died - Friday, February 16, 1962
Mary Lanning Hospital, Hastings,
Adams County, Nebraska
Buried - Monday, February 19, 1962
Emmanuel Lutheran Cemetery
Stuttgart, Phillips County, Kansas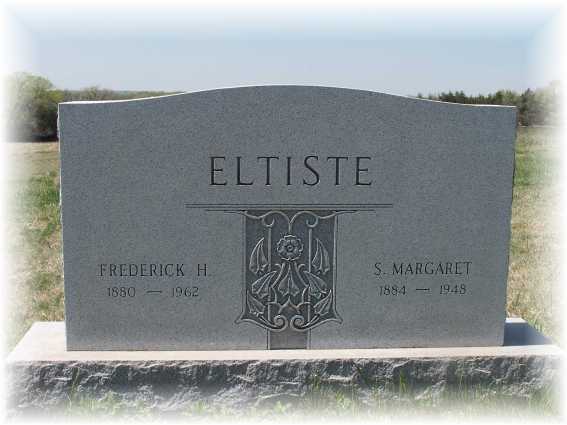 Fred Eltiste Dies
of Fatal Farm Injures

Fred Eltiste, 82, passed away Friday as the result of injuries sustained in a tractor accident at his farm near Stuttgart the previous Tuesday.
Mr. Eltiste was standing on the ground at the side of the tractor, and reached around to press the starter button. The tractor was in gear, and it started moving immediately knocking Mr. Eltiste down and running over his shoulder.
Ernest Eltiste, his son, was close enough to grab him and keep the tractor from running over his head, but the injuries sustained were too serious for a man of his age.
He was rushed to the Phillips county hospital and transferred to Mary Lanning hospital that evening.
Services were held at the Emmanuel Lutheran church in Stuttgart, Monday.

Phillips County Review
Thursday February 22, 1962



Obituary - Eltiste

Fred Henry Eltiste, the son of August Eltiste and his wife, Kathrina nee Hahn, was born on February 13, 1880, in Otoe county, Nebraska.
He became a child of God through the sacrament of Holy Baptism on May 16, 1880, at the Evangelical Lutheran church in Nebraska City, Nebraska. Fourteen years later he was confirmed in the Lutheran faith at Emmanuel Lutheran church in Stuttgart.
In 1886, he came to Phillips county, Kansas, with his parents and grew to manhood on their farm.
On May 10, 1905, he was united in holy matrimony with Margaret Grau. Their union was blessed with one son, Mr. Eltiste devoted his life work to farming in Phillips county.
Death came early on the morning of February 16, 1962 at the Mary Lanning hospital in Hastings, Nebraska, at the age of 82 years and 3 days.
Those who preceded him in death were his parents, his wife and one sister.
The survivors include, his son, Ernest and his wife; one sister, Mrs. Emma Vogel; one brother, Chris; three grandsons, Loren, Melvin and Dale Eltiste; and one brother-in-law, Mike Miller, all of Stuttgart.
Funeral services were held in the Emmanuel Lutheran church in Stuttgart, Kansas, Monday, February 19 at 2 p.m. Rev. Leonard Rudolph officiating. Music was furnished by the church.
Pallbearers were: Ellsworth Miller, Willard Weinman, Ernest Grau, Milton Hesterman, Leonard Preuss and Loren Grau. Burial was in the Emmanuel Lutheran cemetery.

Phillips County Review
Thursday February 22, 1962


Wife - Sophie Margaretha (Grau) Eltiste
Born - September 6, 1884
Auburn, Nemaha County, Nebraska
Baptized - October 5, 1884
Confirmed - April 17, 1898
Stuttgart, Phillips County, Kansas
Died - December 27, 1948
Her Home -Phillips County, Kansas
Buried - December 30, 1948
Emmanuel Lutheran Cemetery
Stuttgart, Phillips County, Kansas
Father - Heinrich Grau
Mother - Anna Elizabeth (Beitz) Grau

Son - Ernest Henry Eltiste
Born- October 30, 1910
Daughter - Infant Death
Born - July 2, 1907 ~Died - July 2, 1907
Buried - Emmanuel Lutheran Cemetery
Stuttgart, Phillips County, Kansas

Brother - Christian Gottlieb Eltiste
Born - September 29, 1981
Sister - Christina Katharina (Eltiste) Mueller
Born - December 6, 1883
Sister - Emma Katherina (Eltiste) Vogel
Born - March 2, 1887

Father - August Christian Eltiste
Mother - Katharina (Hahn) Eltiste


Family Indexes
Home Eltiste Kaiser Fink Rohrs
Family Thumbnail Photo Gallery Index
Last Up-Date 04/12/2008 08:35:12 PM