Eltiste-Kaiser Web Site
---
Kaiser Family
Alwinia Eva Christine (Kaiser) Boethin

Alwinia Boethin
Born - Sunday, December 29, 1912
Phillipsburg, Phillips County, Kansas
Baptized - 1913
Confirmed -1927
Married - Sunday, November 11, 1945
Stuttgart, Phillips County, Kansas
Died - April 13, 1992 - Phillipsburg, Kansas
Alwinia Boethin


ALWINA BOETHIN

Alwina Marie Boethin was born December 29, 1912, in Phillipsburg County to John F. and Maggie Barbara (Fink) Kaiser. She died April 13, 1992, in the Phillips County Hospital in Phillipsburg at the age of 79.
On November 11, 1945, Alwina and Paul Boethin were married. They lived in Logan until she moved to Phillipsburg.
Alwina was a member of the Emmanuel Lutheran Church at Stuttgart. She worked at home nursing and housekeeping and was very helpful to all her friends and relatives.
She is survived by her brother, Edward Kaiser, Union, Grove, Wisconsin, her sister, Alma Eltiste and her husband, Vernon, Lexington, Nebraska; one sister-in-law, Loretta Kaiser, Ellinwood; three nephews and two nieces.
Funeral services were Thursday, April 16, 1992 at 2 p. m. in the Emmanuel Lutheran Church, Stuttgart, with the Rev. Gerald Buss officiating.
Arliss Weinman, soloist, sang "How Great Thou Art" while the congregation joined in singing "Rock of Ages" and "I Know That My Redeemer Lives." All were accompanied by Phyllis Merklein, organist.
Casket bearers were Max Schick, Alton Hazen, Wilber Boethin, Gus Kaiser, Harold Kaiser and Ludwig Kaiser.
Interment was in the Emmanuel Lutheran Cemetery, Stuttgart. Olliff-Boeve Memorial Chapel handled the arrangements.
CARD OF THANKS
Thanks to all of you for your kind expressions of sympathy at the time of Alwina's death. Your cards, calls, memorial contributions and floral tributes were sincerely appreciated. A special thank you to the Emmanuel Lutheran Church women for our lunch the day of the funeral.
The Family of Alwina Boethin

Phillips County Review
April 23, 1992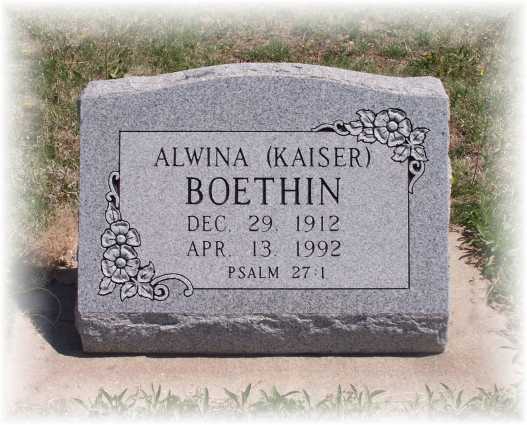 Husband - Paul F. Boethin
Born - March 5, 1900
Died -October 21, 1985
Buried - Saint Peter's Lutheran Cemetery
(Wolf Creek Cemetery)
Logan, Phillips County, Kansas
Paul's Father - Friedrich Gustau Boethin
Paul's Mother - Maria Barbara (Muller) Boethin


Brother - Johann Fredrich Leonard Kaiser
Jake Kaiser

Sister - Alma Eva Auguste (Kaiser) Eltiste
Alma Eltiste


Brother- Hermann Edward Kaiser
Eddie Kaiser


Father - John Henry Kaiser
Mother - Maria Barbara Margaretha(Fink) Kaiser
Maggie Kaiser



Family Indexes
Home Eltiste Kaiser Fink Rohrs
Family Thumbnail Photo Gallery Index
Last Up-Date 01/06/2008 07:14:46 PM