Eltiste-Kaiser Web Site
---
Kaiser Family
Alma Sophia Auguste (Kaiser) Eltiste

Alma Eltiste
Born - Wednesday, July 9, 1919
Phillipsburg, Phillips County, Kansas
Baptized - 1919
Confirmation -1933
Married - Wednesday, February 5, 1941
Stuttgart, Phillips County, Kansas
Died - Monday, December 6, 1993
Lexington Community Hospital,
Lexington, Dawson County, Nebraska
Buried - Thursday, December 9, 1993
Sumner Cemetery, Sumner, Nebraska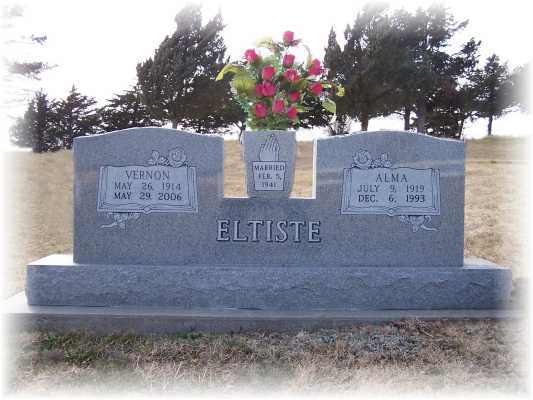 Vernon & Alma Eltiste


Kaiser ۩ Eltiste

Miss Alma Kaiser of Phillipsburg, and Vernon Eltiste of Overton, Nebraska, were united in marriage Wednesday afternoon, February 5, at 4 o'clock, with Reverend Kraus reading the marriage vows.
Miss Kaiser is the daughter of Mr. and Mrs. John Kaiser of Phillipsburg, and has been active in 4-H Club work in Phillips county. The bride was attractive in an afternoon dress of navy blue crepe, worn with matching accessories.
Mr. Eltiste is the son of Mr. and Mrs. Paul Eltiste of Overton, and was a graduate of Overton High School.
Mr. and Mrs. Eltiste are located on a farm near Sumner, Nebraska.

The Phillips County Review
February 20, 1941



Alma S. Eltiste

Alma S. Eltiste, 74 of Lexington, died Monday, December 6, 1993, at Tri-County Hospital.
Visitation will be Wednesday from 3-5 and 7-9 p.m., at Reynolds Love Funeral Home in Lexington. Services will be 2 p.m., Thursday at the Evangelical Free Church in Lexington with Pastor Al Cole officiating. Burial will be in the Odd fellow Cemetery at Sumner.
She was born July 9, 1919, in Phillipsburg, Kansas, to John and Maggie (Fink) Kaiser. She grew up and attended school in the Phillipsburg area.
She married Vernon Eltiste on February 5, 1941, in Phillipsburg. They moved to the Lexington – Sumner area where they farmed and ranched.
Mrs. Eltiste was a member of Fairhaven Baptist Church, Triple F Club at the Church, Lexington Community Concert Association, Town and County Garden Club and Cosmo Pals. She was a master gardener and was lecturer for Weight Watchers for several years.
She is survived by her husband, Vernon of Lexington; two sons, Howard and his wife, Catherine of Holdrege, and John and his wife, Kathy of Omaha; four grandchildren; and a great-grandchild.
She was preceded in death by two brothers, John and Edward; and a sister, Alwina.
Memorials may be made to Fairhaven Baptist Church or the donor's choice.

Lexington Clipper – Herald
Lexington, Nebraska
December 8, 1993



Husband -Vernon Herman Eltiste
Born - May 26, 1914


Son - Howard Dennis Eltiste
Born - January 13, 1945

Son - John Dale Eltiste
Born - November 23,1949

Son - Vernon Kent Eltiste
Born - March 23, 1953 ۩ Died - March 23, 1953


Brother - Johann Fredrich Leonard Kaiser
Jake Kaiser


Sister- Alwinia Eva Christine (Kaiser) Boethin
Alwinia Boethin



Brother - Hermann Edward Kaiser
Eddie Kaiser


Father -John Henry Kaiser

Mother - Maria Barbara Margaretha( Fink) Kaiser
Maggie Kaiser



Family Indexes
Home Kaiser Eltiste Fink Rohrs
Dale & Vernon Eltiste Family Photos
Eltiste Photos Kaiser Photos Rohr Photos Fink Photos
Last Up-Date 10/29/2014 11:22:39 AM