Eltiste-Kaiser Web Site
---
Kaiser Family
Richard August Johann Kaiser
Born -November 3, 1912
Phillips County, Nebraska
Baptized - October 20, 1912
Confirmed - November 11, 1928
Stuttgart, Phillips County, Nebraska
Never Married
Died - November 5, 1996
His Home, Phillips County, Kansas
Richard A. Kaiser

Richard August Johann Kaiser was born in Phillips County, Kansas to Christian and Emma (Woerlen) Kaiser on October 9, 1912 He died November 5, 1996 at his rural residence at the age of 84.
Baptized on October 20, 1912 and confirmed on November 11, 1928, he was a lifelong member of the Emmanuel Lutheran Church, Stuttgart Kansas. Survivors included two brothers August and Arnold and his wife Anna, of Phillipsburg; and a sister Irene Zilinger, Phillipsburg.
Richard was a farmer and raised buffalo. He loved antiques and enjoyed going to farm sales.
Private graveside services and interment were held Friday, November 8 at 10 A.M. in the Emmanuel Lutheran Cemetery, Stuttgart, with Pastor Joel Hiesterman officiating.
Arrangement were handled by Olliff-Boeve Memorial Chapel.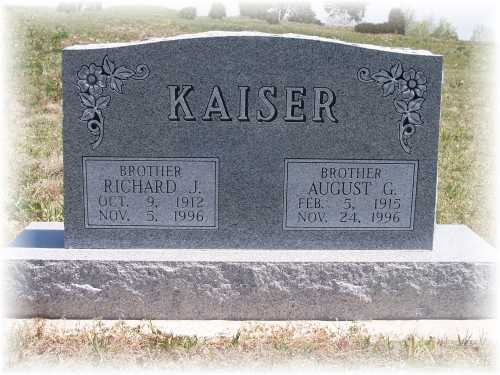 Brother-Arnold Heinrich Kaiser
Born -November 3, 1905
Sister - Rosa Margaretha Christine (Kaiser) Hopson
Born -June 17, 1908

Sister - Leona Katharina Sophia (Kaiser) Gerdes
Leona Gerdes
Born - July 12, 1910
Brother- August Grorge Kaiser
Born - February 25, 1915
Sister- Irene Margarethe Alwinie (Kaiser) Zillinger
Irene Zillinger
Born -October 12, 1917

Father - Christian Adam Kaiser
Mother - Emma (Woerlen) Kaiser


Family Indexes
Home Kaiser Eltiste Fink Rohrs
Family Thumbnail Photo Gallery Index
Last Up-Date 10/07/2008 06:40:20 PM