Eltiste-Kaiser Web Site
---
Kaiser Family
Irene Margarethe Alwinie
(Kaiser) Zillinger
Irene Zillinger
Born -October 12, 1917
Stuttgart, Phillips County, Kansas
Baptized - 1917 -Emmanuel Lutheran Church
Stuttgart, Phillips County, Kansas
Married - May 1, 1940
Stuttgart, Phillips County, Kansas
Died - Thursday, December 27, 2007
Her Home, Phillipsburg, Kansas
Buried - Monday, December 31, 2007
Emmanuel Lutheran Cemetery
Stuttgart, Phillips County, Kansas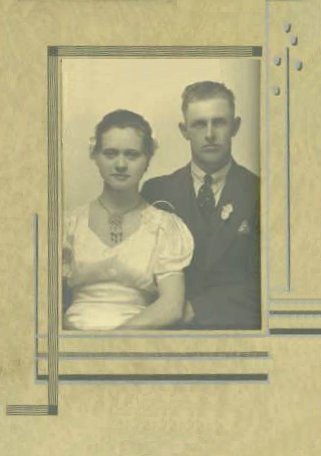 Irene and Ed Zillinger

Irene M. Zillinger

Irene M. Zillinger, 90, Phillipsburg, died Thursday,
December 27, 2007, at her home.
She was born October 12, 1917, in Phillips County
to Christian and Emma (Worlen) Kaiser
She was a homemaker.
Survivors include a daughter, Jo Ann Johnson, Phillipsburg;
four grandchildren; and five great-grandchildren.
She was preceded in death by a daughter,
Arlene Wagner on January 13, 2002

Services will be at 1:30 p.m. Monday at Olliff-Boeve Memorial Chapel,
Phillipsburg; burial in Emmanuel Evangelical Lutheran Cemetery, Stuttgart.
Visitation will be from 3 to 9 p.m. Saturday, from noon to 9 p.m. Sunday,
and until time of service Monday, all at the chapel.
Memorials are suggested to Zion Lutheran Church,
or Emmanuel Evangelical Lutheran Church in care of the chapel.

The Hays Daily News
December 29, 2007

Husband - Edward P. Zillinger
Born - June 30, 1914 - Kansas
Died - June 22, 2005
Krum, Denton County, Texas
Father - Adam George Zillinger
Born -October 23, 1884 ~ Married October 20, 1909
Died - May 2, 1965
Mother - Anna E. (Fritsch) Zillinger
Born - January 24, 1884 ~ Died -September 1981

Daughter - Arlene (Zillinger) Wagner
Born - January 19. 1944
Daughter - Jo Ann Marie (Zillinger) Johnson
Born - August 23, 1945

Brother - Arnold Heinrich Kaiser
Born - November 3, 1905
Sister - Rosa Margaretha Christine (Kaiser) Hopson
Born - June 17, 1908
Sister - Leona Katharina Sophia (Kaiser) Gerdes
Leona Gerdes
Born - July 12, 1910
Brother - Richard August Johann Kaiser
Born - November 3, 1912
Brother - August George Kaiser
Born - February 25, 1915

Father - Christian Adam Kaiser
Mother - Emma (Woerlen) Kaiser



Family Indexes
Home Kaiser Eltiste Fink Rohrs
Eltiste Photos Kaiser Photos Rohr Photos Fink Photos
Last Up-Date 05/07/2012 12:46:31 PM