Eltiste-Kaiser Web Site
---
Eltiste Family
Conrad August Herman Eltiste
"Harry Eltiste"
Born - Tuesday, August 11, 1891
Family Home -Johnson, Nemaha County, Nebraska
Married - Wednesday, November 28,1917
Nemaha County, Nebraska
Died - Monday, July 27,1987
Nemaha County, Hospital
Auburn, Nemaha County, Nebraska
Buried - Sheridan Cemetery
Section-8 Row-2
Auburn, Nemaha County, Nebraska

Young Couple Married
At The Stone Church

Ethel Kiel and Harry Eltiste
Were Wed

Ceremony Was Performed by Reverend Pett
Wednesday Afternoon
In the presence of the Company of Relatives
Both Well Know Young People

The marriage of Miss Ethel Kiel and Mr. Harry Eltiste
took place last Wednesday afternoon at the Stone
church south of this city, the ceremony being performed
by Reverend Pett in the presence of Immediate
relatives of the bride and groom.
The bride and groom were escorted by Miss Mary
Talbot as bridesmaid and Mr. Tom Kiel, brother of
the bride, as best man. The bride wore a beautiful
gown of white messaline Georgette trimmed with pearls.
Following the impressive ceremony all the congratulations of those present the bridal party
retuned to the home of the bride's mother,
Mrs. Ella Kiel, where an elaborate and satisfying wedding dinner was served.
Both the bride and the groom have spent their entire
lives in this county. The bride was born and raised on
a farm near Johnson, although she she lived for some
time in Auburn. Wherever she is known she is held in
the highest regard because of her splendid qualities
of young womanhood.
The groom is a son of Mr. and Mrs. Paul Eltiste Sr., and
is a prosperous young farmer, who has the confidence of
all. He is a young man of fine character and with plenty
of industry and ambition. Many friends throughout this
community unite in wishing the young people well and
trust that happiness and prosperity may be with them
through long and happy years of married life. They
will make their home on a farm near Johnson.

Nemaha County Herald
Friday
December 7, 1917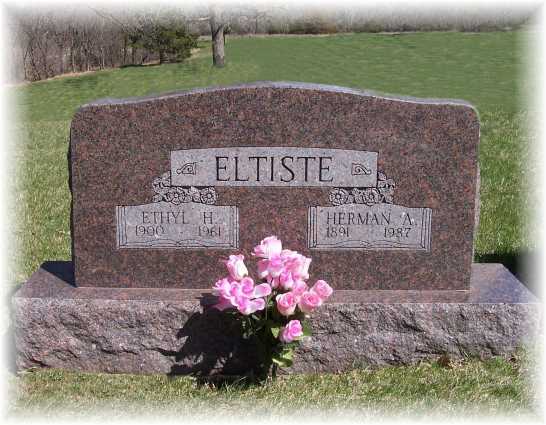 Wife - Ethyl Harriet (Kiel) Eltiste
Born - September 24, 1900 ۩ Died - January 6, 1961
Mother - Ella (Johnson) Kiel



Son - Kiel Eugene Eltiste
Born - July 8, 1918 ۩ Died - July 10, 2000


Son - Herman Alton Paul Eltiste
Born - May 27,1920 ۩ Died - August 6, 1944


Son - Warren Kenton Friedrich Eltiste
Born - August 9, 1922 ۩ Died - January 14, 2003

½Sister - Christina (Eltiste) Smith

½Brother - August Christian Eltiste
Chris Eltiste

Sister - Sophia Katharine (Eltiste) Kaiser
Sophie Kaiser

Sister - Wilhelmine Pauline Christina (Eltiste) Wingert
Minnie Wingert

Sister - Wilhelmine Emil Elizabeth (Eltiste) Bohling
Elizabeth Bohling

Brother - William Frederick Eltiste
Willie Eltiste


Brother - Paul Herman Eltiste
Paul Eltiste

Brother- Theodore Fredrich Emil Eltiste
Born - January 31, 1895 ۩ Died - April 1, 1895


Father - Freiderick Paul Eltiste
F. Paul Eltiste

Mother - Maria Barbara (Stadtler) Eltiste



Family Indexes
Home Eltiste Kaiser Rohrs Fink
Eltiste Photos Kaiser Photos Rohr Photos Fink Photos
Last Up-Date 08/25/2014 06:55:52 AM