Eltiste-Kaiser Web Site
---
Eltiste Family
Ronald Gene Eltiste
Born - January 23, 1944
Johnson, Nemaha County, Nebraska
Peru State Graduation
1966
Married - August 20, 1967
Wymore, Gage County, Nebraska
Died - June 14, 1994
Wymore, Gage County, Nebraska
Buried - Wymore Cemetery
Wymore, Gage County, Nebraska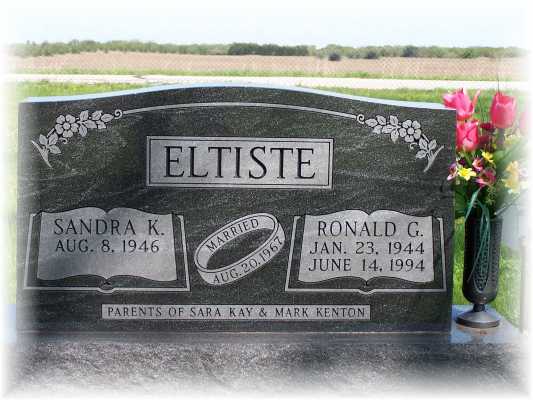 Tribute To Ronald Gene Eltiste
Ronald G. Eltiste

Ronald G. Eltiste, 50 years, of Wymore, died unexpectedly Tuesday night, June 14, 1994 at the Beatrice Community Hospital.
He was born January 23, 1944 on a farm near Johnson. He spent his childhood years at Weeping Water and was a 1962 graduate of Nebraska City High School. He was a 1966 graduate of Peru State College and received his Masterís Degree from the University of Nebraska at Lincoln.
He has been a History teacher and Coach at Wymore Southern High School since 1966 where he has sponsored several groups, and currently served as yearbook sponsor, Sophomore Class Sponsor, and was Co-Chairman of the Southern Public Schools Steering Committee.
He married Sandra Epp on August 20, 1967 at Our Saviorís Lutheran Church at Wymore.
He was a member of Our Saviorís Lutheran Church where he served as a Sunday School Teacher. He was also a member of the Wymore Volunteer Fire Department and Rescue Unit. He was a past City Councilman and Mayor of the City of Wymore, and was a past member of the Gage County Little Britches Rodeo Association.
He is survived by his wife, Sandra; by a daughter, Sara Eltiste, of Lincoln; a son, Mark Eltiste, at home; his parents, Warren K. and Caryll Eltiste, of Nebraska City; by a brother, W. Kirby Eltiste and his wife Kathy of Omaha; by a sister, Diann Rinne, and her husband, Robert, of Lincoln; by his parents-in-law, Alfred and Edna Epp, of Blue Springs; and by several nieces and nephews.
Funeral services were held at 10:30 am Saturday, June 18, 1994 at Our Saviorís Lutheran Church, Wymore, with Pastor Alan Buresh officiating. Burial was at the Wymore Cemetery.
Memorials to familyís choice with Steve Whitwer and Luetta Trauernicht in charge.
Laughlin-Hoevet Funeral Home, Wymore, was in charge of arrangements.
Casket Bearers were Lance Rinne, James Eltiste, Andy Eltiste, Todd Henrichs, L.D. ďBudgeĒ Heusman, and Gene Rickers. Organist was Alice Meints.


Wife - Sandra Kay (Epp) Eltiste
Born - August 8, 1946
Beatrice, Gage County, Nebraska
Father- Alfred Epp
Born - December 23, 1915 ۩ Died - May 7, 1996
Married - March 31, 1944
Mother -Edna Maria (Steinblock) Epp
Born - June 2, 1926 ۩ Died - August 9, 2001

Daughter - Sara Kay (Eltiste) Mrsny
Born - March 29, 1971
Married - March 15, 1997
Savior's Lutheran Church
Wymore, Gage County, Nebraska
Husband - Adam Paul Mrsny
Son - Mark Kenton Eltiste
Born - January 15, 1975


Sister - Diann Lynn (Eltiste) Rinne
Brother - Warren Kirby Eltiste

Brother - Jay Scott Eltiste
Born - June 24, 1960 ۩ Died - June 26, 1960



Father - Warren Kenton Friedrich Eltiste
Kenton Eltiste

Mother - Caryll Jane (Briar) Eltiste

Tribute To Ronald Gene Eltiste


Family Indexes
Home Eltiste Kaiser Rohrs Fink
Eltiste Photos Kaiser Photos Rohr Photos Fink Photos
Last Up-Date 06/19/2014 09:06:54 PM