Eltiste-Kaiser Web Site
---
Fink Family
Marie Katharine (Glock) Novak
Born - December 16, 1866
Nassau, Württemberg, Germany
Confirmed - April 1880
Came To America - 1890
Married - June 10, 1890
Died - December 7, 1946
Buried - December 9, 1946
Saint Peter's Lutheran Cemetery
Logan, Phillips County, Kansas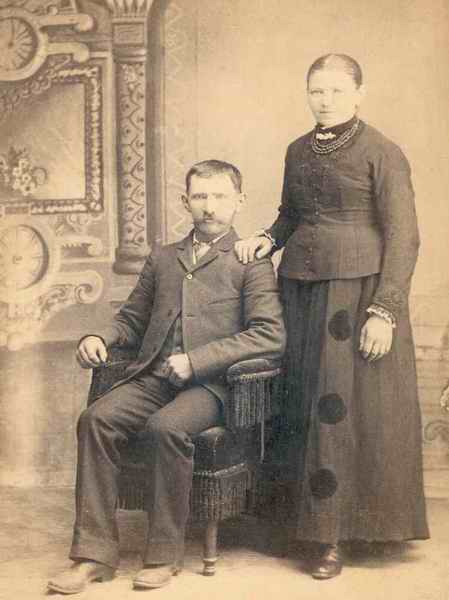 Charles & Maria
Katharine (Glock) Novak
Married - June 10, 1890

Marie Novak Rites
Held Monday

Funeral Service For Aged Mother Held December 9th
From Saint Peter's Lutheran Church

Marie Katharina nee Glock Novak was born December 16, 1863 to Michael and Eva Glock at Nassau, Württemberg, Germany. In infancy she became a child of God through the Sacrament of Holy Baptism. In April 1880, she became a communicant member of the Evangelical Lutheran church through the churchly rite of Confirmation. She entered the United States in May 1890, coming to Phillips County, Kansas, where she resided all his remaining days. On June 10, 1890, she was united in Holy Matrimony to Charles Novak. To this union six children were born, three boys and three girls. On February 24, 1935, her husband departed this life. For almost twelve years she continued to make her home on the farm with, at first one, then two daughters.
For a number of years she has been troubled with a heart ailment. During the last week in October it became worse. Gradually she was confined to bed, growing weaker almost daily, until Saturday morning, December 7, when she was called home by her Master at 9:55.
She leaves to mourn her loss six children: Carl of Logan, George of Nebraska City, Nebraska, William of Logan, Margaret of Denver, Colorado, and Katherine and Ida of Prairie View. Besides this she has five grandchildren, a number of other friends and relatives. Two grandchildren preceded her in death.
She reached the age of 79 years, 11 months and 21 days before entering her heavenly rest. All her life she remained a faithful member of the Lutheran Church holding membership in St. Peter's congregation at the time of her death. She was laid to rest in St. Peter's Lutheran Cemetery, Monday, December 9, 1946.

Logan Republican
Thursday December 19, 1946


Husband - Charles Karl Novak
Born - January 2, 1865
Cobb, Iowa County, Wisconsin
Came to Kansas - 1885
Died - February 24, 1935
His Home -Phillips County, Kansas
Buried -Saint Peter's Lutheran Cemetery
Logan, Phillips County, Kansas
Father- Joseph Novak
Mother - Anna (Polas) Novak

Son - Carl Michael Novak
Born - May 30, 1891
Daughter - Margaetha Katherine Novak
Born - October 1, 1892
Daughter - Katherine Margaret Novak
Born -December 20, 1894
Son- George William Novak
Born - April 27, 1897
Son- William George Novak
Born - July 14, 1901
Daughter - Ida Ann (Novak) Ehm
Born - June 15, 1904

Brother - Johann Georg Glock
Born August 15, 1855
Nassau, Württemberg, Germany
Sister - Margraret Marie (Glock) Schiller
Born August 19, 1857
Nassau, Württemberg, Germany
Sister - Katharine Barbara (Glock) Krafft
Born December 19,1861
Nassau, Württemberg, Germany
Sister - Babette Ann (Glock) Fink
Born October 31, 1870
Nassau, Württemberg, Germany
Sister -Chaterina "Kathryn" (Glock) Balbach
Married - November 18, 1895
Hollenbach, Germany

Father - Michael Glock
Mother - Eva Margaret (Schmieg) Glock



Family Indexes
Home Fink Kaiser Eltiste Rohrs
Eltiste Photos Kaiser Photos Rohr Photos Fink Photos
Last Up-Date 02/02/2007 10:36:54 PM